The end of an era – Dyson Airblade AB14 end of production
Dyson Airblade AB14 discontinued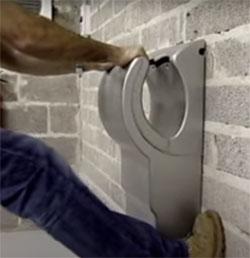 Since Dyson announced in Autumn 2021 that they would be discontinuing the Dyson Airblade AB14, ehanddryers.com have been busy working with wholesalers, contractors, specifiers and end users planning for the retirement of the undisputed heavyweight champion of the hands-in hand dryer world. (See Dyson Airblade announcement)
The Dyson Airblade AB14 hand dryer (and it predecessors AB01, AB03, AB06 and AB07) have held the market share for the last 15 years or so, building on the success of the Mitsubishi Jet Towel, who developed the first hands-in hand dryer, spawning numerous clones and creating a whole genre.
Whilst the Dyson Airblade hands-under versions (Dyson Airblade HU02, Dyson Airblade HU03 and Dyson Wash & Dry Tap) are still available and in continued high demand, they do not suit all requirements. Some specifications and/or washroom designs have been created with the installation of a Dyson Airblade hands-in hand dryer specifically in mind. Moving to a "hands-under" hand dryer, which are invariably mounted further up the wall, may not be desirable or practical. To this end, we have provided the following solutions for alternatives to the Dyson Airblade AB14;
Important : Last production run of Dyson Airblade AB14 scheduled for end of September 2022 - limited availability - ORDER DYSON AB14 NOW
When it can only be Dyson
A)
Dyson Airblade 9kJ, complete with stainless steel splashback and £50 CASHBACK offer

In association with Dyson, we are able to offer the new 9kJ (HU03) complete with stainless steel splashback which will not only protect the wall from water splashing, it will also cover the installation holes of any previously installed hand dryer.

There is also a further £50 cashback against your old Dyson Airblade – regardless of condition when traded in against the 9kJ.
See Dyson cashback offer and Ts&Cs : www.ehanddryers.com/dyson/cashback
To convert – please see Guide to converting from Dyson AB14 to Dyson Airblade 9kJ

Whilst there is no offer of a free stainless steel splashback for this unit, there are the stainless steel and antibacterial ABS splashbacks available which again will cover any pre-existing holes and protect the wall.
Dyson Airblade HU02 has taken over the position of Dyson's most popular hand dryer with a huge market share due to its speed, efficiency and low noise.

If you want to move away from the wall mounted unit, there is no better place to look than the Dyson Airblade Wash & Dry Tap. This 'tap' is fitted above the sink which incorporates an automatic water tap activated by the presence of your hands. When you are finished washing your hands, you move them to the side and the hand dryer is activated emitting high-speed air via blades to quickly and hygienically dry your hands at the sink – no more drips on the floor. This is an extremely compact hand drying system which frees up wall space. Any old installation points can be removed or covered over completely. Bear in mind that you will need a power point at the sink and whilst it is pretty universal, there are considerations on the type of sink and other installation restrictions.
When it can only be hands-in
Converting from Dyson AB14 to other hands-in hand dryers is relatively straight forward with the obvious consideration as to where the cable entry point is on the rear of the machine and whether or not the mounting holes are going to be covered by a new hand dryer. All hand dryers listed in the guide have been approved as suitable in this respect.
There are few hand dryers which have come up to the mark when comparing with Dyson Airblade.
We have given a comparison of all the leading alternatives in this Comparison Guide – Hands-in Hand Dryers vs Dyson Airblade.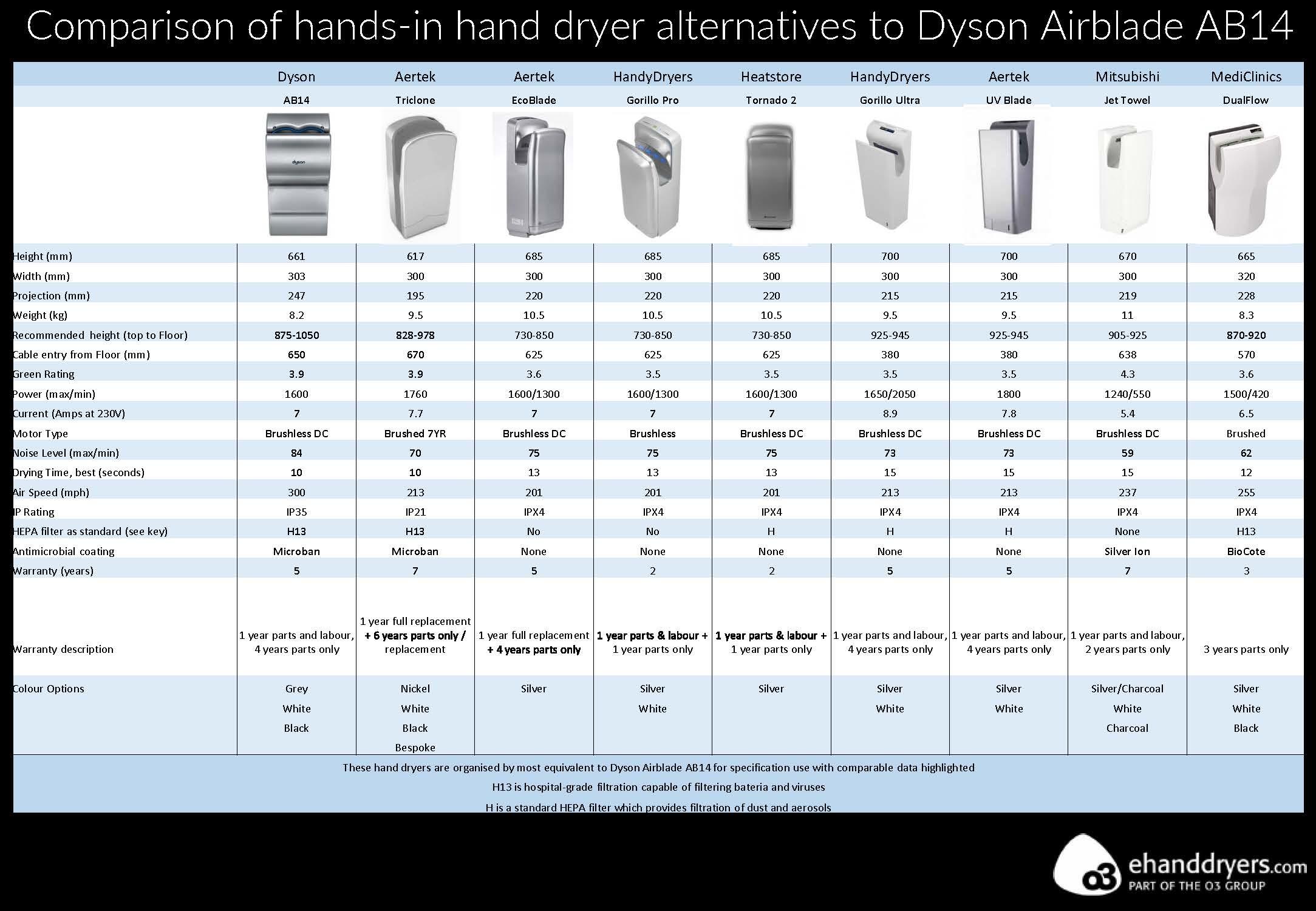 The best in the market is the Aertek Triclone. It uses the same grade of HEPA filter as the Dyson Airblade with the same great drying time (verified 10 seconds) but with a longer warranty (7 years). This hand dryer has long been the heir-apparent to the King-of-hand-dryers crown.
Unlike the Dyson Airblade, this comes with its own built in drip tray (no need to buy the supplementary driplate product), which is antibacterially coated to prevent microbial build-up in the reservoir. It also comes complete with a set of anti-odour, fragrance pods, which release fragrance when the hand dryer is in use, emitting a pleasant fragrance into the washroom and preventing the stale odour build-up associated with some other hands-in hand dryers.
Other leading alternatives are EcoBlade, Mitsubishi Jet Towel and Mediclincs Dualflow
When it can only the best
Notwithstanding the above models, if it doesn't have to be Dyson or hands-in, you shouldn't look any further than the Pebble hand dryer. This dryer skipped onto the market in 2021 making a real splash with contractors, specifiers and users alike with its unique stylish curved design, its hygienic intelligent HEPA filter, strong 5-year warranty and easy plug-and-play design (it really does take less than 30 seconds to remove and re-install – we've tried it, blindfolded!)
If you are in the market for one of the increasingly popular sterilising hand dryers (these actually purify the air, cleaning not only the air you are drying your hands with, but also the air throughout the washroom ensuring a more hygienic environment), Pebble has launched in the UK is Pebble +, Airdri have launched their PureDri, Sterillo has been in the market for a few years already and Fumagalli have been doing it for decades with the MG88A-UVC and SpeedMax UVC.
You can see these all compared here : Comparing Sterilising hand dryers and Hygienic Hand Dryers
Of course other hand dryers are available, if budget is a concern, we can recommend the Pebble Mini, the ever-popular Aertek AirJet and Aertek Areo, along with Gladiator and Microlite.