Aertek T3 Wash + Dry, Over-Sink Hand Dryer Combination Tap - Soap, Water, Air. Aertek T3
Aertek T3 Wash + Dry, Over-Sink Hand Dryer Combination Tap - Soap, Water, Air. Aertek T3
---
Drying Time


16-24 seconds
Noise Level
70dB
Power Consumption


1000 Watts / 450 Watts /
Green Rating
3.5
Warranty


3 Years
FREE DELIVERY
UK & Ireland
---
Aertek T3 Wash + Dry, Over-Sink Hand Dryer Combination Tap - Soap, Water, Air. Aertek T3



Aertek T3 redefines the hand dryer experience.
With the combination of sensor-operated, luxurious foam soap dispensing, automatic water faucet and warm air hand dryer, the Aertek T3 eliminates the need for separate water tap, soap dispenser and hand dryer. No more mismatch with the design elements of each provision and different locations enabling other design elements within the washroom to stand on their own.
Reduced installation time : install one tap, no more drilling holes in tiles for soap dispensers and hand dryers.
Seamless transition from wash to dry
No more dripping soap on counter tops and water on floors
By washing and drying at the sink, all soap from dispensing is over the sink where it is washed away. All drips from washing hands are confined to within the sink, rather than dripping on floors as the user walks to hand dryers


Saved space
Along with not needing to allocate space behind or beside the sink for soap dispensers and sharing dispensers between sinks where they often drip onto the counter top, the removal of a space designated for the hand dryer really improves the flow of the washroom.
For the user, it means that they no longer need to look around and wait for a hand dryer, it is a completely personalised experience every time. The removal of the space required for a hand dryer frees up space in the washroom and eliminates bottlenecks at the hand dryer smoothing the throughflow of the washroom.


Intelligent Hand Dryer Design
The Aertek T3 all-in-one hand dryer tap uses sensing technology to measure the ambient air temperature of the washroom to automatically adjust the heating element to deliver warmed air to aid in evaporative drying.
Reduced power consumption with varying heating element power from 450-1000W by sensing the ambient air temperature.



Targeting Net Zero
It is obvious that having one piece of high-end technology to replace three, there is a reduction in the carbon required for manufacturing, delivery and installation. The Aertek T3 saves energy in the manufacturing and production process, has lower power consumption when in use and is fully recyclable - we take back old units to be broken down into the constituent parts for whole life cycle carbon reduction.


T3 Packing Contents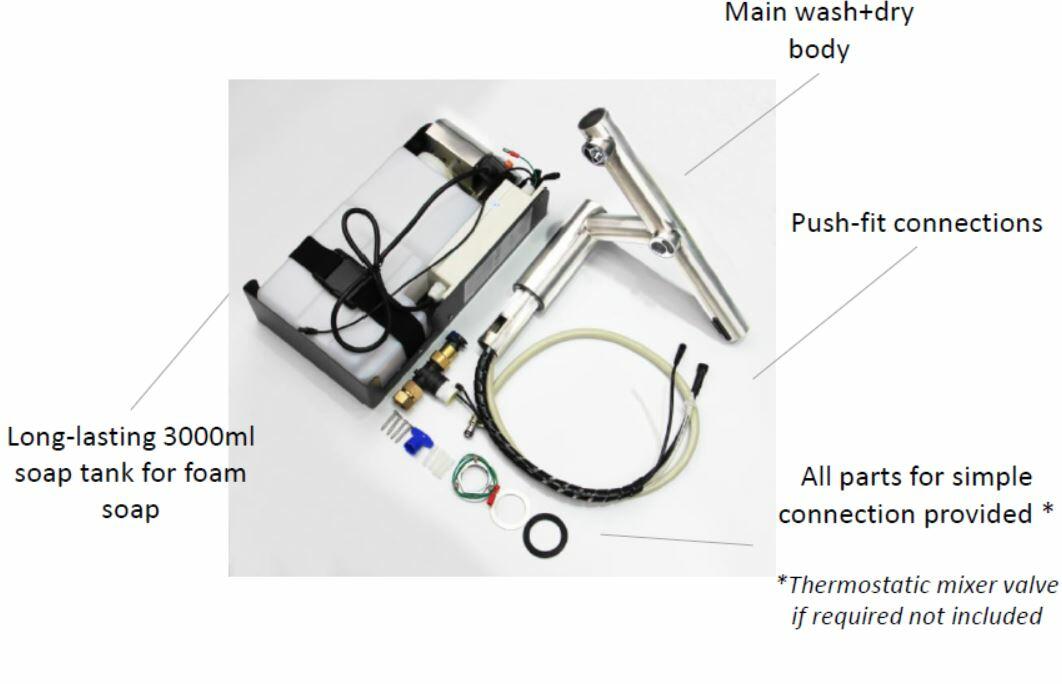 #CompleteClean
---
| | |
| --- | --- |
| Technical Specifications: Aertek T3 Wash + Dry, Over-Sink Hand Dryer Combination Tap - Soap, Water, Air. Aertek T3 | |
---




Warranty


3 Years

Green rating

3.5

Drying time




(seconds)

16-24 seconds

Peak Noise level




(dB)

70dB

Power




(Watts)

1000 Watts- 450 Watts-


Voltage

220-240V 50 Hz

IP rating

IP24

Air speed




(mph)

179

Hygiene Features

Antimicrobial coating

None

Width




(mm)

360

Height




(mm)

150

Projection/Depth




(mm)




200

Finishes available

Black PVD
Brass/Gold PVD
Stainless Steel : Polished/Chrome
Stainless Steel : Satin/Brushed

Aperture Type

Jet Tap

Automatic / Manual

Automatic

External Switch

No

Heating Element

Yes

Max Air Volume




(m3/hr)




Max Motor Speed




(rpm)




111,000

Standby Wattage




(Watts)




0.25
---
| | |
| --- | --- |
| Download Resources | |
---
Aertek T3 Wash + Dry, Over-Sink Hand Dryer Combination Tap - Soap, Water, Air. Aertek T3